High-end features to enhance efficiency and maximize the fun of driving
Created by SsangYong, a highly experienced 4WD manufacturer, Rexton's overall structure is designed for stable on road and off road driving. New power train and proven drive train with advanced technologies provide the greatest driving experience you can expect from a real off-roader.
Rexton's new power plant, the 2200cc RX220e-XDi which delivers up to 178 ps output, is Euro 6-compliant. Maximum torque is kept within the 1,400-2,800pm range.
The XDi engines are able to run at their best even when the driving conditions are poor. The use of low-viscosity motor oil (5W 30), which satisfies the extreme testing environments of Mercedes-Benz, makes oil changes less frequent, while an innovative multi-twister system lowers motor oil consumption considerably.
Quality manual or automatic transmission to suit any driving style
6-speed manual transmission
Using a wide spread of ratios, the 6-speed manual gearbox has been developed to improve launch acceleration while also offering low-engine-speed high-economy running at motorway pace. Efficiency and durability have also been improved by optimising oil lubrication, while particular engineering attention has been paid to reduce gear whine at all speeds.
7-speed AT from Mercedes
The 7-speed G-tronic automatic transmission, built with Mercedes-Benz technology, provide smooth and quiet operation. The advanced AI programme monitors the vehicle's operational status and can anticipate the driver's intentions, while optimal gear changing delivers the best driving performance at high speed and improves fuel efficiency.
The Rexton W incorporates the same advanced technologies found on luxury saloons to deliver outstanding handling and the best possible ride. Traveling in this SUV promises to be a pleasure for driver and passengers alike.
Front wheels: Double wishbone suspension
The front wheels are suspended by lower and upper arms to maintain optimal wheel contact for better driving stability. Ride smoothness is further enhanced by dual action gas-filled shock absorbers, stabiliser bar and coil springs.
Rear wheels: 8-link indipendent suspension
The Rexton W employs the same advanced suspension systems found on many luxury saloons to achieve the superior damping essential to both handling and ride comfort. Each link performs a specific wheel locating task to ensure constant steering stability and superior handling amid changing road conditions. Moreover, the wheels move independently of one other, reducing chassis movement on rough surfaces and maintaining optimal wheel control at all times.
---
Part-time 4WD: Experience the authentic SUV performance
Part-time 4-wheel drive is simple and offers great drivability. Normally, the vehicle is driven by the rear wheels only, lowering fuel consumption because of the lower rolling resistance. The driver can switch the transaxle to four-wheel drive while the vehicle is in motion whenever additional traction is required.
---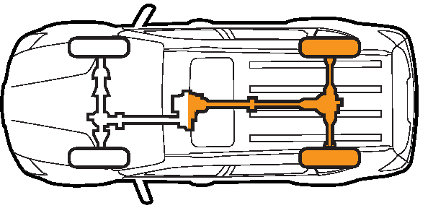 Normal road conditions
2WD High-gear Mode
Under normal driving conditions 100 per cent of the engine's torque is driving the rear wheels so that the Rexton can run with the highest efficiency.
---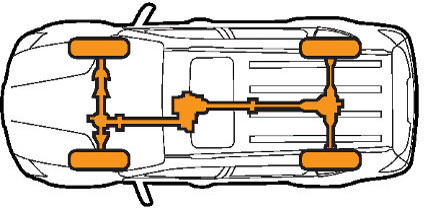 Snowy & icy road conditions
4WD High-gear Mode
Whenever additional traction is needed, the driver can switch the transaxle to four-wheel drive while the vehicle is still in motion. The technology also comes into play when pulling away on a steep slope, allowing the Rexton to drive off from a standstill smoothly and safely every time.
---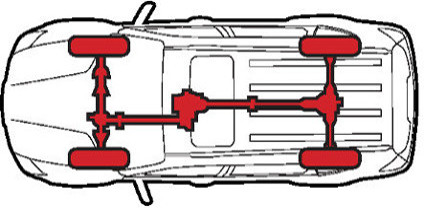 Slippery inclines & heavy off-road conditions
4WD Low-gear Mode (4WD Lock)
Use the 4WD lock mode to manually force the spread of power between the front and rear wheels at speeds below 40 km/h. The locking differential is a must for any camper or nature lover, as it's widely used on boat ramps and rocky areas of off-road.