High-end features to enhance efficiency and maximize the fun of driving
Created by SsangYong, a highly experienced 4WD manufacturer, Korando's overall structure is designed for stable on road and off road driving. New power train and new drive train with advanced technologies provide the greatest driving experience you can expect from a compact SUV.
Two powerful yet cleaner-running engines provide dynamic performance and the eco-friendliness
Euro VI-compliant diesel and petrol engines are both available.
The e-XDi220 (2.2L diesel) turns out maximum torque (400Nm) between 1,400rpm and 2,800 rpm for great responsiveness all the time.
The 2.0-litre petrol engine produces a maximum power output of 149 ps and 191 Nm of torque, with a competitive fuel-use rating of 6.2 l/100km.
The final test for any new engine is reliability, and Korando's new powerplants have passed the Mercedes-Benz durability test with flying colours. This is the world's toughest examination for any new engine, designed to test it to the limit before it is fitted under the bonnet of a production model. The final seal of approval was given to the new Korando's engines only after they had also undergone extensive real-world test driving in both the hottest and coldest of environments.
New technologies to reduce noise and vibration have been applied to improve the driving experience whether it is starting, accelerating or decelerating.
6-speed manual or automatic transmission to suit any driving style
6-speed manual
Using a wide spread of ratios, the 6-speed manual gearbox has been developed to improve launch acceleration while also offering low-engine-speed high-economy running at motorway pace. Efficiency and durability have also been improved by optimising oil lubrication, while particular engineering attention has been paid to reduce gear whine at all speeds.
6-speed automatic
The 6-speed automatic transmission uses the E-Tronic system and is equipped with artificial intelligence that provides dynamic driving and optimal shifting by automatically changing the gear shifting pattern according to transmission oil temperature and road conditions.
Thumbs up manual mode (with 6-speed AT): Dynamic driving can be enjoyed with the steering wheel and the switches located on the tip of the gear knob.
Great control, great ride
Sophisticated drive and suspension systems allow you to drive with confidence and ride in comfort
To suit the needs, expectations and budget of every customer, Korando is offered in both front-wheel drive and all-wheel drive (AWD) forms. While variants feeding power only to the front wheels will offer the lowest price entry into Korando ownership, Ssangyong's advanced AWD system makes the most of the model's dynamic abilities both on and off road.
Electronically controlled AWD system
Korando's AWD is an on-demand system. By monitoring the grip level, the technology can determine the driving conditions and traction available before distributing power to the wheels that need it most.
---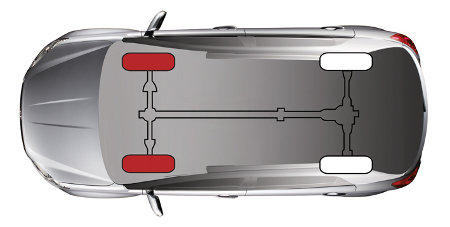 Normal road conditions
Mostly 2WD
Under normal driving conditions 100 per cent of the engine's torque is driving the front wheels so that the Korando can run with the efficiency of a family hatchback.
---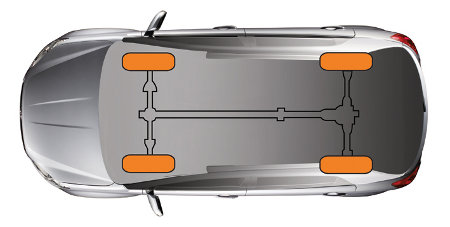 Snowy & icy road conditions
4WD for better stability
As soon as the front tyres begin to lose traction, power is fed to the rear wheels to ensure safe, stable and dependable progress is resumed. The technology also comes into play when pulling away on a steep slope, allowing the Korando to drive off from a standstill smoothly and safely every time.
---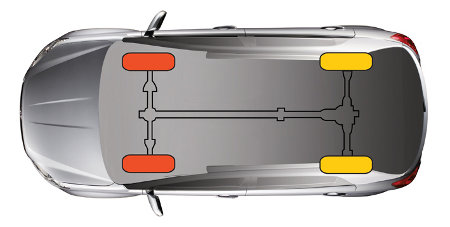 Snowy & icy inclines
50:50 torque distribution front and rear (4WD Lock)
Calling on its 4x4 know-how, Ssang Yong hasn't forgotten that many Korandos will find their way off the beaten track on a wintery adventure or towing a caravan on a sodden campsite. That's why engineers have fitted an AWD lock mode to manually force the spread of power between the front and rear wheels at speeds below 40 km/h.
---
At the core of the AWD Korando's engineering is safety. When working with ESP (Electronic Stability Program) and ABS (Anti-lock Braking System), the four-wheel drive system provides the best possible grip and control whatever the conditions.
Off the beaten tracks
Suspension and off-road capacity without compromise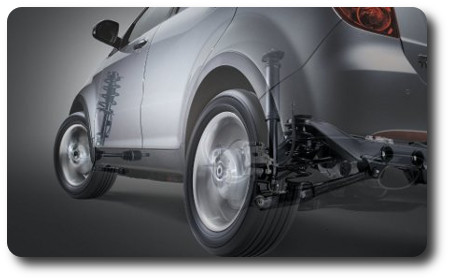 Smooth and quiet ride can be enjoyed with Korando's advanced MacPherson strut front suspension with A-shaped lower arms and vibrations damping multi-link rear suspension. Equal-length drive shaft is applied for excellent straight travelling stabilization and a full type subframe is applied to strengthen body rigidity and collision resistance.
Korando has a ground clearance of 180 mm, approach angle of 22.8 degrees, departure angle of 28.2 degrees and ramp angle of 18.5 degrees. The result is a maximum climb angle of 48% (AWD, 33% for 2WD), a roll over angle of over 40% and a wading depth of 300 mm.
Korando's excellent rigidity and quality have already been recognised during its victory in the ScanCovery Trial 2012. Driving 7000 km from the Arctic Circle to The Netherlands in January, the winning Korando beat some 60 SUV competitors after driving through the most arduous weather with temperatures as low as -40°C...
... and last but not least, Korando's towing capacity of 2000 kg is the highest in its class!
Moving your dreams forward